A video game development and edition studio

All team members are motorsport and simulation fanatics. We create original games and design custom applications for advert gaming and serious gaming.
A simulation technology expert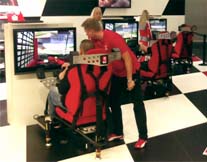 Many projects have enabled us to gain a solid understanding of these areas.
You wish to make a super attractive public animation ? Get simulators for a public or private event, or just buy a simulator ?
Take advantage of our experience and our knowledge : from hardware to software we offer comprehensive and customized solutions for events, entertainment and serious gaming.
We're listening to our clients needs, so feel free to contact us so we can imagine your project together.